The coaching industry is a dynamic and colorful industry. It has given us the likes of Tony Robbins, Marshall Goldsmith, and Sheila Goldgrab and helped millions of people discover who they are and how to succeed in whatever chapter of life they are in.
Though coaching has made its way into the mainstream and adopted new and innovative approaches to engaging with coachees, the model most coaches use to facilitate coaching moments hasn't changed much in the past generation.
Most training and development resources still rely on information consumption models that are still susceptible to the forgetting curve hypothesis, which indicates that people's memory, even of valuable information, will atrophy over time (and often very short periods of time) without good practices to retain it.
Plus, many assessment tools still use underlying research and analysis from Carl Jung and haven't evolved much other than newer and fresher coats of paint (think colors instead of numbers, birds or animals instead of letters).
Even the coaching industry's approach hasn't changed much over the decades. Hourly sessions, at regular intervals, followed by the occasional check-in for accountability.
Valuable coaching conversations can lose momentum because they are confined to limitations familiar to common coaching approaches. However, in the moment coaching, especially within the workplace, is in greater demand and more relevant than ever.
Why Are Coaching Moments At Work So Valuable?
Workplace coaching creates opportunities for managers and peers to help develop one another's skills and performance.
Coaching is invaluable if an organization is to achieve its goals. It should be part of the continuous employee performance management by managers to maximize the potential of the employees. – quantic.edu
The benefits of a coach helping a team or individuals work through challenges can impact results that extend throughout the entire organization.
People are complex, and the best coaches consider context, realizing that every situation is different and requires nuance.
At Cloverleaf, we love coaches and believe strongly in the value they can provide to a team. But also believe it worth acknowledging that there are shortcomings to traditional coaching models that coaches and leaders need to consider.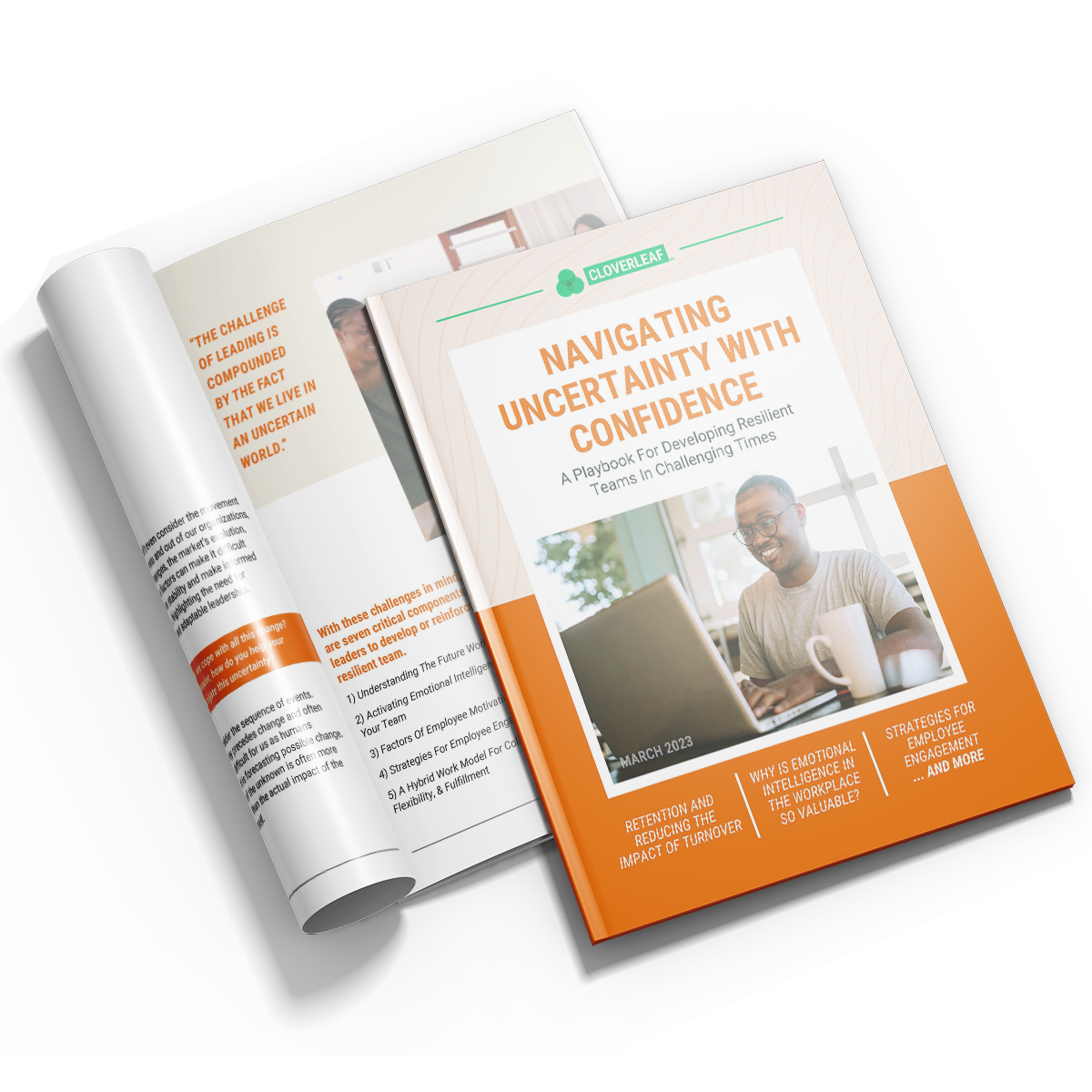 Free Playbook For Creating An Engaging Employee Experience even During Challenging Times
"*" indicates required fields
3 Challenges To Traditional Coaching Models:
Scalability
Providing a human coach for everyone in the organization is cost prohibitive, and finding or training enough available coaches is difficult. Not to mention that there are diminishing marginal returns if everyone had a coach.
Timeliness
A once-a-month connection between an individual and their coach can restrict relevant, timely coaching specific to the immediate problems that managers, leaders, or individuals face throughout their days/months.
Measurable Impact
Proving and improving impact has been a challenge for the industry. 
Often, even the best coaching relationships may only make the coachee feel better that they are doing something to improve themselves. But what about the ability to verify clear, measurable outcomes that indicate organizational results?
Measurement is another critical area where there hasn't been much innovation in coaching solutions. Solving these three significant problems requires defining the long-term goal of coaching in the workplace.
What Is The Goal Of A Coaching Moment?
When I ask people in our network about their experience with a coach, they will often recall the last coaching session and point to some insight or discovery gained during that session.
Next, I follow up with a question about frequency – specifically, how many of these insights they typically encounter during an average 1-hour session. They may pull out a notebook and reference 3-5 bullet points of takeaways.
Typically, to measure the impact of those 3-5 insights, one could consider several points of impact:
Leadership effectiveness
Performance reviews
360 scores
While these are important indicators, the measurable impact of the coaching is limited because they only reflect a point in time concerning the individual (often without ongoing measurement or prone to inconsistent measurement over time.)
Plus, there are several additional factors (pay, relationships, proximity to the work, etc.) that can skew the results.
There is room for improvement. At Cloverleaf, we have a North Star that guides our measurement of successful employee coaching to ensure it is precise and worthwhile. It also influences all the product features and market decisions we make.
We call this North Star – 'Successful Coaching Moments.'
The goal of every coaching moment in the workplace should be to improve emotional intelligence, collaboration, and organizational impact.
To determine our proximity to reaching this North Star, we measure the following elements (like any good North Star metric):
Reach or breadth of people (known internally as coached users)
This element reflects how many team members or employees within an organization are impacted by Cloverleaf's Automated Coaching™.
Depth or levels of impact (known internally as successful coaching per day)
Unlike most coaching practices that depend on the 3-5 insights gathered within a 1 hour per month session – Cloverleaf's typical user experiences, on average, nine successful coaching moments per day.
Frequency (known internally as days coached per month)
Cloverleaf can help you reach clients and teams daily. Rather than waiting weeks until the next coaching session, coaches can foster consistent development to keep their clients on track.
Measuring the reach, depth, and frequency of the coaching at work teams' experience provides context that can ensure ongoing coaching in the workplace is happening and that users are less susceptible to pitfalls like the forgetting curve or slow progress.
At this point, the big question you may ask yourself is, 'how do we know if in the moment coaching tips are successful?'
After all, that is the key to overcoming the current shortcomings of standard approaches to coaching and capturing true impact. Further still, how can we ensure that results are accurate and not impacted by several other factors? How do we PROVE that Automated Coaching™ is successful?
How To Know If Coaching Moments Are Successful Within Your Team
The best way to determine if coaching is successfully impacting your team is by using data that can indicate an increase in emotional intelligence, improvement in collaboration, and organizational performance.
Additionally, gaining a pulse on team culture and how applicable the coaching is can help leaders accurately assess the value of in the moment coaching.
With Cloverleaf, coachees can rate every piece of coaching content. With each coaching tip, we ask simple questions like, was this coaching helpful? This immediate feedback is a starting point for users to provide even more context concerning the effectiveness and relevance of the coaching they receive.
Next, team members can respond to additional contextual questions concerning why that coaching was helpful or unhelpful.
All of these data points are significant because they offer insight that correlates with the team and organizational sentiment, relevance to their role, and the ROI of Automated Coaching™. 
The most important question is, how do we know that Automated Coaching™ improves emotional intelligence, team effectiveness, or belonging? 
Cloverleaf's Chief Research Officer, Scott Dust, runs regressions against the data to isolate the impact of Cloverleaf on outcomes, and here are some of the results.
Our monster pilot data essentially says that as the number of coaching moments increases, so does the increase in (a) team effectiveness, (b) feeling recognized by team members, and (c) feeling as if one's strengths are valued by others.
These are great results, and we plan to further extend this analysis. We believe that Cloverleaf (an Automated Coaching™ solution) when used in conjunction with a human coach, can take employee and organizational development to even greater heights.
Cloverleaf is helping People Strategy Leaders change how they develop their leaders. Scaling coaching opportunities for leaders and managers is possible with access to popular validated assessments, personalized dashboards, and in-the-moment coaching tips.
Discover why Cloverleaf is the all-in-one tool for boosting emotional intelligence in the workplace. Schedule a demo to learn more about Cloverleaf 's impact on leadership development, managerial effectiveness, and driving behavioral change.