Picture it: your team is humming along with most people in roles that suit them. You almost feel like things are on autopilot. You are grateful for your team's work and are proud of their accomplishments.
And then, it happens. One of your key players utters those dreaded words. "After much thought, I decided it's time to move on."
And now, you're in hiring mode to find new employees. Suddenly, the white space in your calendar is occupied with strategizing and troubleshooting. If you have support, you'll likely ask your HR department to find the job description from when you hired the on-their-way-out individual.
Or, your organization is faced with making difficult decisions about staffing levels and restructuring, which can lead to layoffs and increased turnover. By taking a proactive approach to managing labor turnover, businesses can minimize its impact and ensure the organization's continued success.
Managing turnover can become like a side gig when you have to replace a key team member. Leading through change or uncertainty can be daunting but also builds resilience. In the process, you may learn more about yourself as a leader and problem-solver than you thought possible.
Instead of becoming overwhelmed and succumbing to stress, it can be helpful to break down the areas that require your attention and energy. By focusing on specific areas and prioritizing tasks, you can tackle them one by one, alleviating stress and improving productivity.
Remember, some of these tasks may coincide, so managing your time effectively is essential. You can make your calendar your ally by using time-blocking and weekly planning strategies to prioritize tasks and ensure you can handle everything efficiently.
Critical Areas Of Focus & Priority When Turnover Happens
Negotiate The Last Day & Exit Strategy
Even though the standard "giving notice" time has been two weeks, this isn't always the only option. Depending on the departing employee's exit timing, you may be able to negotiate some additional transition time.
In cases where the employment relationship ends on a positive note, many people are willing to assist during the hiring and onboarding process of the new employee. This can help ensure a smooth transition for both the departing and incoming employees and minimize the impact of turnover within the organization.
Leadership Tip: You want to build trust with employees at all times. Organizational loyalty is a real thing. When an individual feels loyalty to the team and the organization, they will be more likely to support the transition.
Questions To Help Improve Employee Exits And Transitions
Would the departing team member be open to reviewing the job description and providing any valuable insights or updates that may be appropriate?
Having their input can be highly beneficial. As the person closest to the role, they can help refine the job description to improve the targeting of potential candidates.
Can the exiting employee provide support during the hiring and search process?
As you narrow down your options, involving the current employee in the selection process can be incredibly valuable. Their input on potential candidates can help ensure a seamless transition.
Would they be willing to assist in the onboarding process for the new hire?
While it may seem like a stretch, if the employee's exit is positive, involving them in the onboarding process can be a dream come true for the new hire. An experienced team member can help the new employee confidently onboard, understand their responsibilities, and integrate into the organization.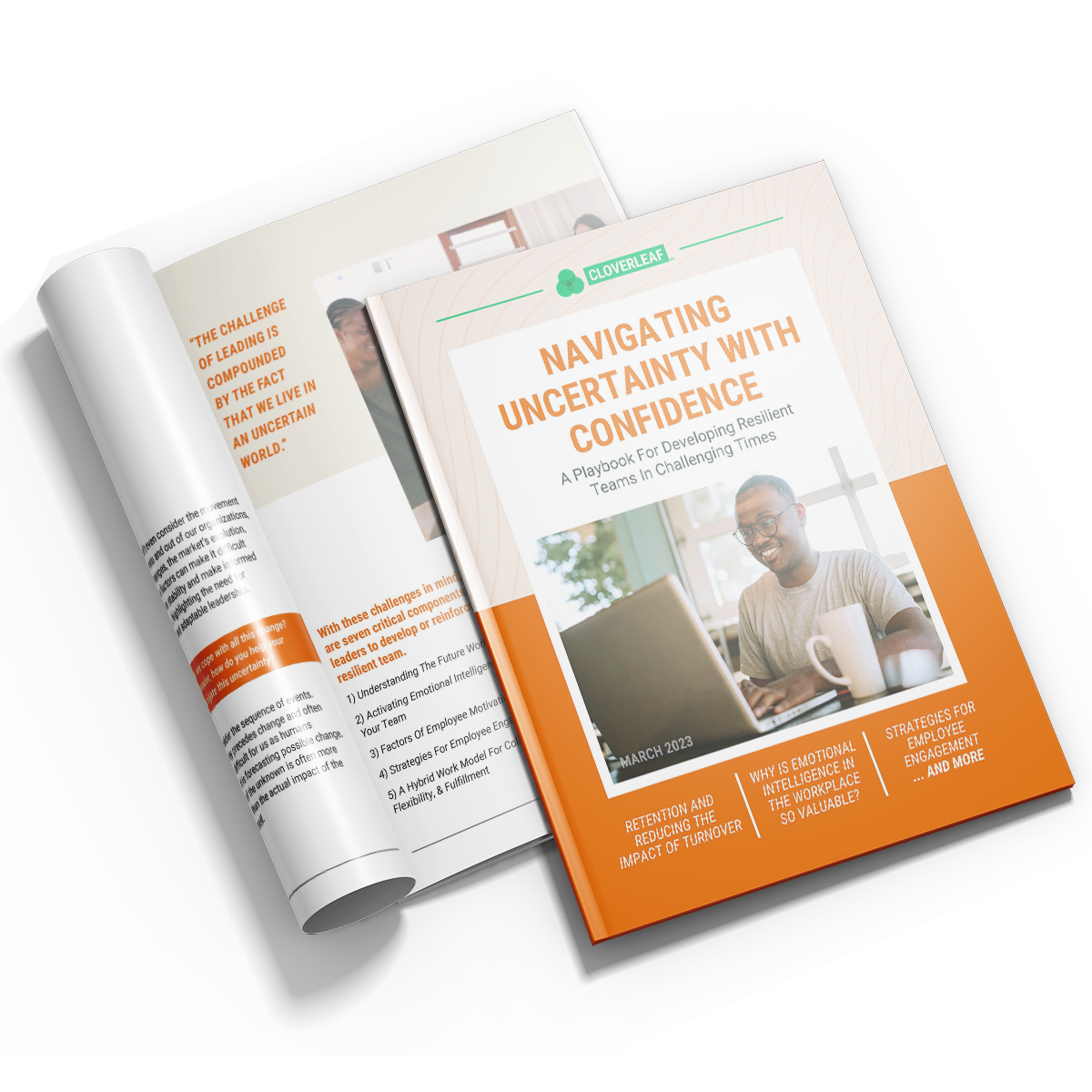 Free Playbook For Creating An Engaging Employee Experience even During Challenging Times
"*" indicates required fields
Prioritize Messaging To The Team
Collaborating with the departing team member on messaging is crucial to ensure everyone hears directly from you. However, before communicating with the entire team, it's critical to have a high-level transition plan that can be shared to reassure team members. Remember to communicate this plan in a live or live-virtual conversation or meeting (not email) to ensure that everyone can ask questions and receive immediate feedback.
Before finalizing your communication about managing turnover or transition, consider the following factors that can impact the process:
When Is The Timing Of The Transition: After finalizing this with the departing team member, let the rest of the team know what this will look like. This will help ensure everyone is on the same page and can prepare for changes.
What Is Your Plan To Manage Possible Gaps: While it's ideal to avoid burdening other team members during the transition, it's not always feasible. Schedule dedicated time to collaborate with the team on navigating the change and workload effectively.
Emphasize Your Availability To Support The Team: Often, your team will need reassurance. To do so effectively, it's essential to work through your stress and seek support from your leader before the meeting. Offer support during the transition and schedule 1-on-1 meetings with key team members most closely affected.
Managing The Transition And Hiring Process
Your decisions must be informed and strategic during any reorganization involving people management. Avoid hasty decisions during the transition process by taking time to plan appropriately. Don't rush to fill a vacant position; it is crucial to consider your options carefully and prioritize finding the most suitable candidate for the role.
To effectively manage the gaps mentioned earlier, leaders must consider the following needs of the team.
Indicate Which Strengths And Skillsets Are Crucial To The Role
In partnership with the departing team member and other key team members, observe the strengths and gaps of the individual and the team using various assessments.
What talents are necessary for the role?

Which skill sets are needed to help balance the team's current gaps?
Use this information to identify which skills and talents are vital to the role and update the job description accordingly.
Identify Opportunities To Reassign Work To Existing Team Members
Consider what strengths of your existing team you can leverage. Hint: Integrating a career development conversation with team members during a transition can help you tap into strengths that may lie dormant within the team.
As you collaborate with the team, ask key team members which strengths they would like to leverage for their careers that can aid this transition process. This creates a win/win situation for the individual and the team.
Customize Interview Question Specific To Candidate's Assessment Results
When interviewing new candidates, consider using various personality, behavioral, and strengths-based assessment results to create customized interview questions that focus on specific strengths or areas of development.
This interview strategy can help you gain deeper insights into the candidate's potential fit for the role and their potential contributions to the team's dynamics.
Provide Regular Updates To Your Team
You must keep the team informed of your progress throughout the hiring and transition process. If the hiring process takes a little longer, be sure to schedule regular check-ins with team members who are covering the gaps.
Improve The Onboarding Process
The initial days of an employee's experience are foundational to a company's retention strategy. According to Gallup®, employees who had an exceptional onboarding experience are more likely to feel satisfied with their job and workplace and are also more likely to stay with the company.
Onboarding cannot be limited to just completing a checklist of mandatory training. While these training sessions are important, adding fun to the onboarding process can leave a lasting impression on new hires and increase their excitement about their new role.
Cloverleaf offers a range of solutions to support leaders in managing and improving transitions and hiring processes. The team dashboard can be a valuable tool for identifying gaps and strengths in the existing team and reassigning work to leverage team members' strengths.
Teams can also leverage the coaching insights on Cloverleaf to create custom questions for team members, ensuring adequate support during transitions. Similarly, the candidate can ask targeted behavioral questions during interviews and compare the candidate's strengths with the existing team, enabling more informed hiring decisions.
Navigating change is difficult, but it is not impossible! Using a combination of leadership, communication, collaboration, and Cloverleaf, you can successfully move past this transition and experience greater results with your team!
Conclusion
Managing employee turnover and transitions is an essential skill for every leader. Team members will inevitably leave for various reasons, but how a leader responds to and guides the process will determine its impact on the organization.
By prioritizing these critical areas and focusing on specific tasks, leaders can maintain a positive relationship with outgoing and incoming employees, build organizational loyalty, and ultimately support the organization's future success.