The Enneagram can be highly beneficial in the workplace, helping you better serve your teammates, peers, and clients. The assessment gives insight into each person's perspectives and motivations, aiding communication and cohesiveness.
There are four key areas of teamwork that the Enneagram can help propel your team toward better work: Understanding Your Teammates, Dealing With Conflict, Conducting Productive Meetings, and Empowering Others.
Starting conversations around these topics may seem challenging. Many people struggle to open up and be vulnerable in professional settings. However, the following activities can help facilitate productive discussions and strengthen your team.
While you can't force anyone to participate, the long-term reward of a cohesive team far outweighs the short-term inconvenience of being vulnerable.
Below are four ways that you can use to implement the Enneagram and the insights that it offers into your work relationships and communications. 
4 Enneagram Team Building Activities That Actually Work
1. Use A Messaging Channel To Share What The Team Is Learning
Start a slack channel or other messaging thread for teammates to share and appreciate what they are learning about themself and others. Affirming and recognizing new insights is a powerful way to celebrate and reinforce a healthy team culture.
Find ways for your team to communicate how they are growing and what they value in one another. Using the Enneagram as a springboard is an easy way to begin nurturing this type of conversation.
2. Create A Type Map That Indicates Each Team Member's Number Within The Enneagram Symbol
Recognizing the makeup of your team can illuminate areas of strengths and weaknesses. Doing so will help you identify where other personality types may be able to contribute and provide additional insight or a fresh perspective.
This activity can also help you understand why you or a team member may react in certain ways. Having this information as a reference point will allow everyone to anticipate responses, support each other, and leverage strengths better.
Discover Cloverleaf's Automated Coaching™ platform that utilizes powerful assessments like the Enneagram, DISC, 16 Types, and others to make assessment results actionable in the context of working relationships and teams.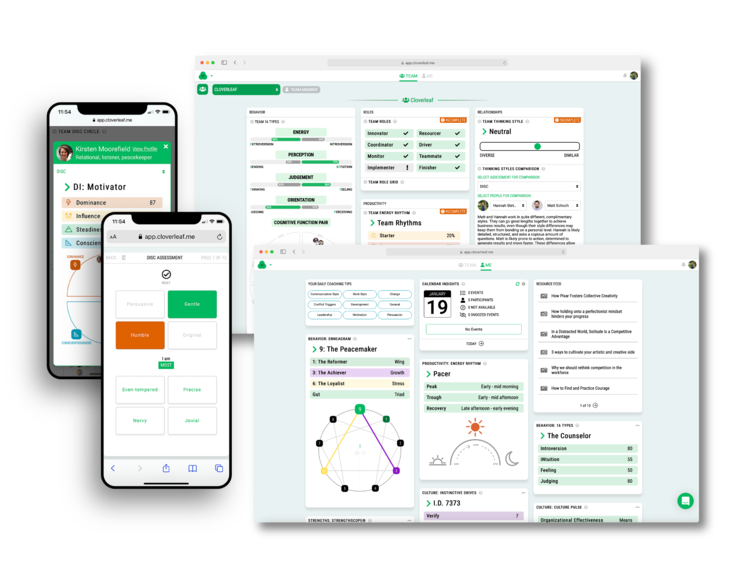 3. Facilitate Small Group Discussions Using Questions That Highlight Strengths
Designate a meeting for team members to share what they are learning about themselves and each other using conversation starters. Below is a list to help get you started:
When you make decisions, describe how you incorporate your organization's mission into your process.

Share specific examples of how you've noticed others infuse empathy into your team communications.

What is a positive example of how the Enneagram helped you collaborate with a teammate?

Describe what you believe helps you do your best work.

What are the unique contributions you notice others make to the team?

Think about what motivates you and share how that affects your work habits.

In what ways are you learning that self-awareness improves teamwork?
THE
ENNEAGRAM GUIDE

TO HEALTHY TEAMS
Inside this free guide, you'll learn: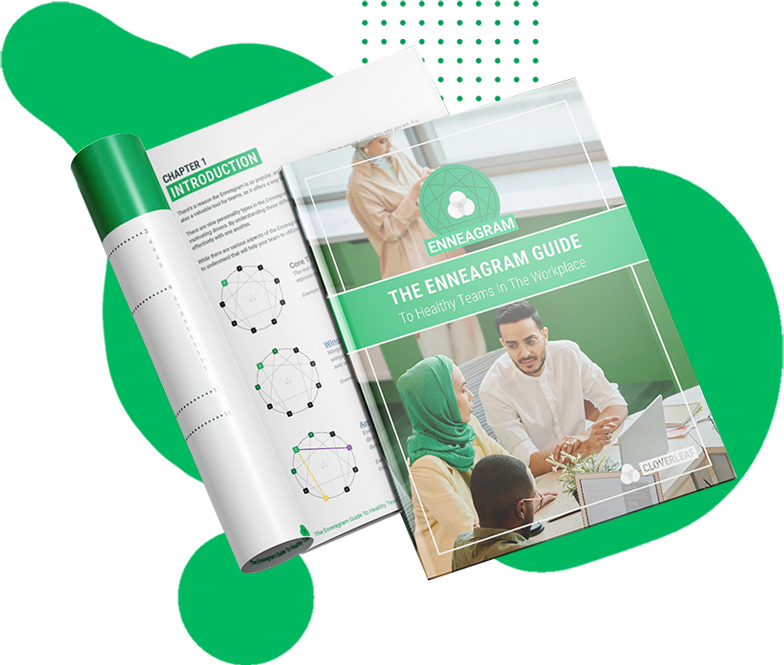 4. Start A Free Team Trial Using Cloverleaf!
Cloverleaf makes it easy for enterprise organizations to use their assessment insights to support collaboration, healthy dynamics, and effective conflict resolution.
Together, your team will share a dashboard that reveals individual and collective insights to help your team thrive by understanding one another better.
Also, Cloverleaf integrates with the tools you love, like Google, Workplace, Outlook, Microsoft Teams, and Slack. 
Plus, you'll receive daily coaching tips about yourself and your teammates based on strengths and personality type to help ensure productive collaboration.
You don't have to plan an activity like those described above. Sometimes just a short review of the Enneagram Types can help. Doing so can open up the possibility for your team's compassion, empathy, and understanding toward each other.
After all, a team that works well together performs better and is more efficient in all tasks. To learn more about each type's communication and work styles, check out the post: Understanding Each Enneagram Type At Work. Or, download the free Enneagram Guide To Healthy Teams In The Workplace.
When you're assembling a team, it helps to know what motivates people and where they excel. Using the insights your team discovers from Enneagram team-building activities can improve your business's performance and nurture a healthy company culture.
Conclusion
The Enneagram is a valuable system for understanding different personality types. When teams use it to foster healthy discussions and develop their team, it can help individuals understand how to work more effectively with one another. 
Did you know that Cloverleaf can help you use your Enneagram results to sharpen your professional development and work environment?
Click here to learn more about how Cloverleaf turns leading personality and strength-based assessments into actionable coaching inside your enterprise organization.