The Enneagram has several aspects to its system that help nuance and understand the differences among each personality type. Wings are a key part of the Enneagram, and understanding their role can help you further develop self-awareness and relationally with others.
What Is An Enneagram Wing?
Wings are the numbers that reside directly on the two sides of your Enneagram Type. For example, if you are an Enneagram One, you will either have a Nine-wing or a Two-wing. Or, if you are an Enneagram Two, you will have a One-wing or a Three-wing.
Essentially, the wings of each type represent additional elements of your personality that influence and work in harmony with your dominant type.
How To Find Your Enneagram Wing
Your wings are located to the left and right of your dominant type. You can find your wings by looking at the Enneagram Type diagram. Within the Cloverleaf profile, the wings of each type are highlighted in dark green.
Are you unsure of your dominant Enneagram Type? Take our free enneagram test to receive in-depth, accurate information to help you identify your type.
The Wings Of Each Enneagram Type:
How To Use Your Enneagram Wings To Experience Growth
While you may have tendencies that reflect the characteristics of both wings, having a more dominant wing is common.
Typically, people relate to one of their wings more than the other. Like a bird, both wings should have the same strength to work properly. 
Often, people will share their Enneagram results like, "I am a one-wing nine." This indicates that the traits associated with the nine wing are more prevalent than the two wing, but they still have both in them. 
Growth opportunities with the Enneagram can come from identifying the positive characteristics of your less dominant wing and working to develop them.
The more you learn about each Enneagram Type, the more empathy you can practice toward yourself and others.
Being mindful of your strengths and weaknesses, along with the attributes of your wings, can help you live with greater intentionality professionally and personally.
Do you need help navigating your work relationships or developing a work culture where people can thrive? Download the free Enneagram Guide To Healthy Teams In The Workplace.
THE
ENNEAGRAM GUIDE

TO HEALTHY TEAMS
Inside this free guide, you'll learn: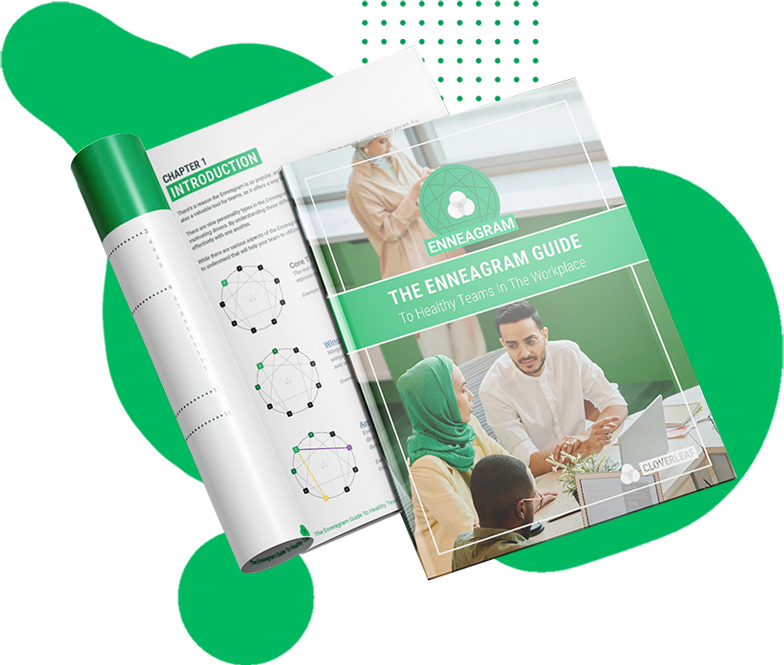 Your wings do not change your core type; rather, think of them as resources you can use when you feel unsure, insecure, or stuck in behavior or thought.
The characteristics of each wing may complement or even contradict the common traits associated with your core type, but that is okay! This is part of what makes you a well-rounded human being.  
Enneagram Wings Help Explain Why Personality Is Complex
Every person will experience differing degrees of influence from each of their wings. Realizing this helps explain why it is possible for those who share the same personality type to exhibit characteristics to varying degrees.
For example, an Enneagram Type 7 with a strong six wing may exercise more caution, while those with a strong eight wing can be more urgent in their decision-making.
Wings widen the spectrum of behavior for each type, and people will exhibit these traits in an array of possibilities.
Wings are one part of the Enneagram framework and offer helpful insight to support your growth. The next time you face a challenging situation or conversation, consider how you can draw from your wings to successfully navigate it.
Did you know that Cloverleaf can help you use your Enneagram results to sharpen your professional development and work environment?
Click here to learn more about how Cloverleaf turns leading personality and strength-based assessments into actionable coaching inside your enterprise organization.